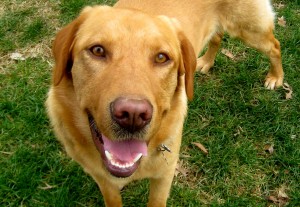 May 17 -23 is National Dog Bite Prevention Week.
According to the AVMA, 4.7 million Americans will be bitten by a dog this year. 500,000 to 800,000 of those people will require medical attention. About 12 people a year die from dog bites.
At the top of the victim list is children, followed by U.S. postal workers.
More dog bites occur to children in the summer months, presumably because children spend more time with their puppies and dogs in the summer.
There are several things we can do to prevent dog bites to children.
Tips for Children:
never approach strange dogs

always ask permission before petting a neighbor's dog

do not disturb dogs that are caring for puppies, sleeping, resting, or eating

never reach for a dog that is under a bed or piece of furniture

avoid running and screaming near dogs

all food that falls on the floor belongs to the dog

avoid wrestling with a dog or puppy

look for warning signs such as lip curling and growling
Adults:
never leave a child and dog together, unattended

keep the dog current with vaccinations and medical treatment

closely supervise all interactions between children and dogs
Companion Animal Behavior Counselor & Trainer, Canine Speciaization
Private and Group Dog and Puppy Training in Memphis, TN