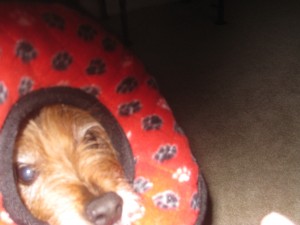 Some puppies are uncomfortable when exposed to new environments or equipment. If your puppy becomes excited or frightened, just name the item or event, and act as if all is well.
If your puppy remains focused on the item or event, distract his or her attention from the scary thing.
Instead of saying "It's OK", divert your pup's attention with a treat or a toy.
It's normal for puppies to be leery of new things. Let your puppy adjust with minimal input from you. Both you and the pup should play the roles of observers.
Some people believe it's a sign of confidence if a puppy never becomes frightened. A truer test is to measure the length of time it takes for a puppy to return to a normal state.
Afraid of Collar or Leash
Occasionally clients report their puppies "freeze up" or lie down when they attach a leash, collar or harness.
This poses a problem in regards to house training, walking and managing unwanted behaviors, such as jumping up.
I tell all my clients to attach a leash or short line, even when their puppies are inside the house. This is so they can prevent their dogs and puppies from practicing rude behaviors.
The leash is an excellent inside and outside management tool. All dogs should be able to relax when a leash is attached, regardless of the dog's location.
Initial protests to equipment fittings are not difficult to resolve unless people ignore the protests and drag their puppies via attached equipment.
If your puppy is afraid of a collar or harness, do this. Let your puppy investigate and smell the item. Name it. Attach the collar or harness, praise your puppy; hand him a food treat and then remove it. Repeat several times.
Next, attach the equipment immediately before feeding. Praise your pup. After your puppy has eaten, remove the item. Do this for several meals but methodically increase the amount of time the collar or harness is attached after the meal. In a few days, your puppy will like his equipment!
Some puppies quickly learn to dislike the leash because their owners pull and jerk on the leash.
Always supervise any dog when a leash is attached.
If, while following these instructions, your puppy is still afraid of the leash, break your introduction process into more, smaller steps. Use a very short piece of a leash instead of a 4 or 6 foot leash. Once your dog is accustomed to the short piece, use a longer piece.
Introduce the concept of restriction and the leash in several small steps and your puppy will learn to like the leash!
First, let your pup smell and investigate the leash. Name it.
Next, attach the leash and praise your dog. Hand him a food treat. Remove the leash.
After several instances of attaching the leash and immediately removing it, attach a short, lightweight, leash and let your puppy drag it around for a while. Do not pick up the end of the leash. Do this several times throughout the day, or every evening for a few days.
The subsequent step is to pick up the end of the leash, hand your puppy a food treat, and then drop the leash.
Do this several times in one session. Hold a few sessions throughout the day or evening.
Next you'll introduce the concept of leash and equipment pressure.
Tell your puppy, "This is pressure", and apply a slight, steady, and brief tug on the equipment. Praise your puppy and hand him a food treat. Repeat a few times.
Add just a bit more pressure each time. Vary the area of the pup's body that is affected by the pressure by tugging right, left, up, down.
Finally, you will pick up the leash and walk one step. Don't pull your puppy! The leash should be loose and not tight. Coax your puppy. Praise your puppy for following you. Repeat several times, but add another step each time.
After few instances, your puppy will be accepting of the leash.
Alan J Turner – Companion Animal Behavior Counselor & Trainer, Canine Specialization