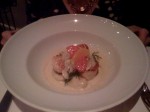 We want the food treat to act as a reward for performing, not as a signal to perform. If you use a food lure when initially teaching behaviors, when practicing in new locations, or in the presence of increased distractions, you should fade the lure quickly.
If food is always presented before the behavior, then it's considered a trigger for the behavior. If you continue to use food as a lure, your dog will learn to perform only when food is present. Yikes!
This is a very common mistake and is so easy to avoid. Ideally the food lure will be used less than five times, in most instances only three times!
If your dog only performs when the food is present, here's what you should do. In advance, place a treat or two high up on a shelf or mantle in several locations throughout your home.
At random times, ask your dog to perform a behavior and use the hidden treats as rewards. This will teach your dog that food does not have to be present (in your hands, pocket or a treat bowl) in order for him to earn a food treat.
Get out the treats when your dog is watching. Ask for a couple of behaviors and never deliver food as the reward. This will teach him that even though food is obviously in the environment, he doesn't necessarily get it as a reward.
The idea is to make the "presence of food" in the environment irrelevant.
He might get a treat when food is not present and he might not get a treat when food is present.
Review the section Rewards Awareness Program. If you give your dog attention and touch for free, the only remaining reward (of which you have total control) is food.
Happy Training!
Alan J Turner, Companion Animal Behavior Counselor & Trainer – Canine Specialization
Private and Group Dog Training in Memphis, TN
Owner: How's Bentley