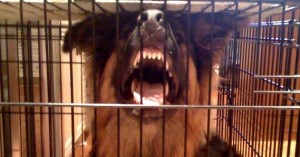 Barriers such as fences and windows may encourage your pet dog to exhibit territory aggression.
Suppose a dog watches out the window (or runs along a fence line) for hours at a time.
Suppose the dog barks and snarls at passing dogs, bicyclists, joggers, walkers, children, etc..
Suppose the dog jumps, up on the window or fence, barks and lunges, snarls and snaps. At this point the dog will not listen to the owner. It's as if the owner is invisible.
The scenario described above is a problem in the making. That dog will practice his or her battle skills with every instance of excessive guarding.
I have no doubt. If the situation is not addressed, at least five out of ten dogs in that situation will, one day,  escape and bite or injure a passerby or dog. The other five dogs will, one day, scare both owner and prey with aggressive behaviors but no puncture wounds.
If this describes your dog, please do your best to kindly prevent him or her from practicing battle skills. If possible place the dog in another area of the house or yard. Choose an area without a view of other people and animals. For more tips about dog and puppy and behavior and training and help, visit the ASPCA virtual behaviorist.
Happy Training!
Alan J Turner
Companion Animal Behavior Counselor and Trainer
Private Sessions for Aggression, Fearful Dogs
How's Bentley- Memphis, Collierville, Germantown, TN

Join the forum discussion on this post - (1) Posts