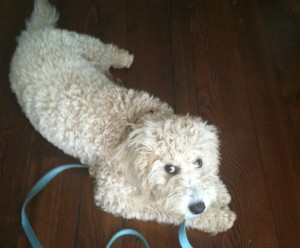 Today,  I met with a marvelous pup, Rosie, the Goldendoodle. Rosie loves to swim!
I used my iPhone 3Gs to make the video.
Click the words below this sentence to see a video of Rosie swimming.
Rosie the Goldendoodle Loves to Swim
Here are the steps for teaching a dog anything you want.
Condition a reward marker, a signal to tell your dog the instant he or she has succeeded.
Establish a Rewards System, so your dog will be motivated to cooperate.
Get the dog to perform the behavior (or some portion of the behavior) during very short, practice sessions.
Mark the instant your dog succeeds.
Reward your dog, reinforce the behavior.
Refine the behavior through repeated, very short, practice sessions in many different areas.
Add distractions so your dog will always perform the behavior.
Practice the behavior in real life.
Basic Obedience Commads that all dogs should learn:
Attention, Sit, Here, Down, Stay, Go-to-Place, Leave-it, Walk on Lead
Alan J Turner – Dog Trainer
Private and Group Dog Training in Memphis TN