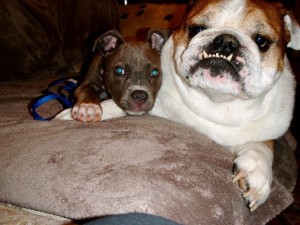 I know many suggest adding another dog to give your pup a playmate.
Adding another dog has exercise and social benefits, however; I never mention add-a-pup as a solution for families that are having difficulties meeting the training needs of one dog.
Owning two untrained dogs is at least three times the work as one.
You'll need to separate them for teaching sessions. Dog A must be trained. Dog B must be trained. When you put them together, they are another dog, Dog AB. You'll need to practice with Dog AB too!
Some people prefer to send their dogs to day care. If your pup is not stressed by the noisy and rowdy environment, send him off for a day to play with other puppies.
Sometimes it's tough to determine if puppies are playing or fighting. If the puppies often reverse roles and neither is hiding from the other, then the rough play is normal.
Reversing roles is when Pup A chases Pup B, then Pup B chases Pup A.
If one puppy is on top, and then the other pup is on top, the play is normal. Relax and enjoy the show!

Print This Post
Alan J Turner – Companion Animal Behavior Counselor and Trainer, Canine Specialization