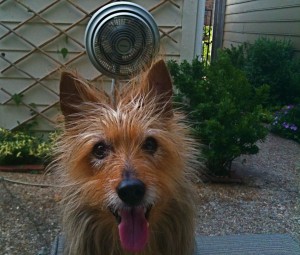 Frozen Kong®
Sometimes the weather or my schedule prohibit outside adventures. Sometimes I'm too lazy or tired to exercise. I've found ways to entertain Bentley without walking or playing fetch.
Here's how you can exercise your dog when you are busy.
Get a Kong®. Amazon has excellent prices on these famous Kong toys. You an get a large kong for under $8. Order two or three and keep them loaded in your freezer. The frozen kong provides excellent foraging and entertainment value. If your dog is an aggressive chewer, order the ultimate black kong!
Place a bit of wide, silver duct tape over the small opening to seal it off. Place some dog food and a few treats inside. Pour some water and a bit of low sodium chicken broth inside the Kong®. Stand it upright in a cup or glass in the freezer and let it freeze.
Now you are prepared to exercise your dog without leaving your chair! Remove the frozen Kong® from the freezer, remove the duct tape and give it to your pup. He'll spend 15-25 minutes stimulating his mind and his body while he is foraging.
You can use the frozen delight to teach your puppy to relax in the crate, laundry room, or in the back yard, alone.  To change your puppy's perception of being isolated from people, give the frozen kong only when the puppy is alone. After several pairings. the  puppy will begin to enjoy the alone time!
Happy Training!