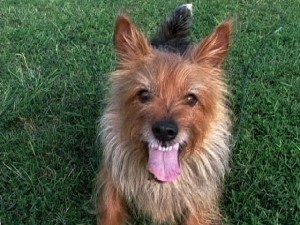 Hi Fellow Trainers.
I suspect any of you APDT members  or any other trainers who replied to the original email from someone posing to be named Muneta Bianco (white money) Italian model Eliska Kocarova's assistant, (as I did) received the next message (quoted below) in the series. I believe see where this email phishing scam is going. After I reply with the public information requested, I suspect the sender will ask for a bank account number or send me a bogus check, in hopes that I will deposit it and immediately send real money to them.
Perhaps the scammer is counting on our ignorance of such scams. Not me. I am using this opportunity to draw suitable traffic to my informational web site. That is, you the professional dog trainer who has clients that could use a reliable resource for free information about dog and puppy and behavior and training and help.
Say, take a moment to look over my site. You will find it has substantial, free and helpful information about dog friendly training via a clicker or marker.
If any trainers, who have the same philosophy as me, want to post some free instructions on dogand.com, email me and we'll talk. Thanks.
ALan J Turner – How's Bentley Memphis TN
Member – APDT
Hello Dear,
How are you doing today? hope you woke up well and strong? I am very sorry for the late reply, I was away in the UK  for a family reunion over the weekend and just returned  this morning I am sorry  i was not able to email you before my travel,  Am very pleased to read from you, Hope you having a nice time over there, Im doing great here,  you sound like a very nice person and am sure  Miss Eliska will love your work.
I sent a copy of the message you sent me to Miss Eliska  and she is very happy you will be train her puppy  when she is away on her photo shoot.
Miss Eliska  said she was able to confirm her tickets for the 17 of next month  and you can start work on monday the 19th, she said you should make a Schedule for the puppy  from the 19th of next month to  the 25th of November, I hr training session a day 2 days a per week for 5 weeks and she would like all the visit to be ( Monday – any time before 2pm ) and (friday any time after 5:30pm) because she will not be having her photo shoot on those dates so she can be with you when you train her Puppy.
She would be making reservations in the hotel below next week and will give you all the details you will need as soon as the reservation is done and also her flight details.
La Quinta Inn & Suites
1236 Primacy Pkwy
Memphis, TN 38119
Pls let me know if this hotel is close to you and  if all your charges includes transportation to the hotel and if the tranning will done in the hotel or your place. Once you confirm the dates and time are fine with you i will ask her to email you with more details about her travel
About payments,  She said her  Manager went on vacation to Australia with his family yesterday and left her  with an American Certified Cashiers Check in the sum of 4950usd,   being  payments for her  Photo shoot Equipments and the rest payments be given to you for your work,  Because she will be Renting some of the Equipments she will need for her  photo shoot from an Equipment rental company in Asia,   She said she spoke with the Equipments rental manager today and was told he will not be able to cash an American certified cashiers check in Asia as it is cashable only in the US.
So she asked me to ask you if  she can make the certified cashiers check in your name as it is an American Certified Cashiers Check so that  you can receive it and help her have it cashed before her arrival,   you deduct  the money for your work and you help her send the rest to the Equipments rental manager in Asia on her  behalf via western union money transfer so that her  equipment can be delivered to her  hotel before her arrival,  I will give you all the details and direction on how to handle the funds when you receive it so you need not worry about that.  She would be most grateful if u can help,  Please  do let me know if you will be able to assist her handle the situation before her arrival?
If you would be able to help her with the Money situation, I would need you to  email the  information she will use in making out the certified cashiers check to you for you to make necessary arrangements before her Arrival as she would be going to France on sunday on a runway show and will like to make sure all is well before her travel to france.
This are the informations she will need for the cashiers check, Pls do send the following to her email address:(  pwetyeliska@yahoo.it )
1) Name on check:………………………..
2) Address check will be sent to:…………………….
3) Phone Number to call on delivery: …………………..
4)Total amount for your Work………………..
You can reach  Miss Eliska on her office phone incase you have any questions:  +448704955902
Hope to read from you soon.
Thank you very much.
Muneta Bianco