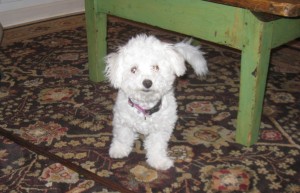 Dogs are den animals and contrary to misconceptions, (when introduced and used properly), dogs will readily enter their crates and relax, regardless of the level of activity near the crate.
Dogs should never be crated or left unsupervised while fitted with any types of harnesses or collars, except a break-away collar.
Please fit your dog with a break-away collar for any events or activities that do not include direct supervision by a responsible adult.
Here are some examples of why and when to use a crate.  Use a crate:
for house training

to protect your property

to keep your dog safe

when traveling

for overnight outings

to rotate two dogs while training

for stays at vet clinics, groomers

to provide a den or safe spot for resting

to restrict dogs' access to visitors

to limit activity during medical recovery periods

to give yourself a break
Confinement Overview
During my consultations with clients, I meet people who use laundry rooms, garages or back porches instead of crates. Some in this group report that their dogs constantly bark or whine. What they don't realize is that dogs, like humans, are social mammals.
Most dogs want to be near us! A simple solution is to kindly introduce the dog to a crate and place the crate in a room with people. This often solves the barking problem.
Opposition to the proper use of crates is more often a reflection of how we feel about confinement (as humans).
Millions of dogs live full, happy lives with a crate as part of their daily routines.
If you are opposed to crating your unsupervised dog, use other, less effective, confinement tools such as laundry rooms, baby gates and exercise pens.
If you don't use any barriers, expect problems with house training. Expect soiled carpets and destruction of your property.
Many people only confine their dogs when they are away or at night. Pups and dogs normally relax when away from their people in these low activity situations.
These same dogs may bark and whine if confined when their people are home and moving about.
This is because the dogs were not introduced to the concept of being confined when people are home and active. More than likely the dogs were placed in the crate immediately before the people left the house or went to bed.
A crate trained dog:
will not eliminate in the crate

readily enters the crate when asked

relaxes in the crate when alone in the home

relaxes in the crate when people are home and active

relaxes in the crate when other animals are not crated