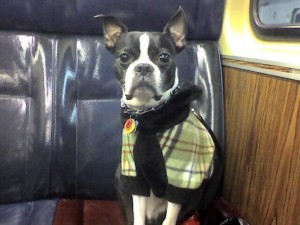 Dogs and puppies are opportunists.
Dogs follow one rule – "What's in it for me – right now?" Dogs have no concept of right or wrong, good or bad. I do not believe dogs are concerned about yesterday or tomorrow. I believe dogs are interested in the present and how they can get what they want at this instant in time.
Dogs do what they do because their behaviors are instrumental in getting what they desire– period.
Animals perform voluntary behaviors that are instrumental in achieving their immediate goals.
Voluntary behaviors that achieve immediate goals are repeated.
Voluntary behaviors that fail to achieve immediate goals are discontinued.
Therefore, if your dog is constantly barking at you, the dog must have a history of getting what he or she wants by barking at people. Your ultimate goal is to teach your puppy dog a polite way to ask for whatever. The first step now is to prevent your pup from refining rude behaviors.
When your dog barks at you, walk away. This will teach the dog that barking makes you go away, quite the opposite of what he or she desires. Return in a few moments and then give your dog a couple of simple commands, such as Go-To-Place, Sit or Lie Down. Mark the instant your puppy succeeds and then give that rascal some version of FAT.
The idea is to teach your puppy or dog that barking is not the method to get your attention, but Go-To-Place or Lie Down will get your attention!
NOTES: Notice the word, "voluntary" in the post. Behaviors that involve fearful, compulsive, reactive, or aggressive responses are not necessarily voluntary and cannot be modified using the same rules as voluntary behaviors.
There are many different underlying causes for barking, with just as many (or more) solutions to reduce barking. Some solutions are better for some situations and other methods work best in other situations. For example, if your dog is barking at the dog next door, walking away would be useless.
21st Century Canine Relationship Specialist