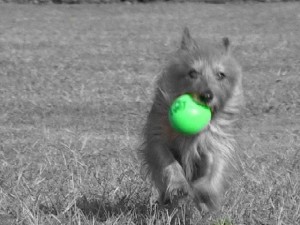 Before you can use positive reinforcement to reward your dog (Food treat, Attention, Touch), you'll need to get the dog to perform some version of the behavior.
There are many methods to get behavior. Here are some dog-friendly methods.
Capture – good for simple behaviors that are naturally offered, like sit.
Just wait until it is occurring and then reinforce the behavior. Capturing requires patience. 
The trainer must be experienced "setting the stage" for the behavior(s) to occur and the trainer must be ready to reinforce the instant the behavior first occurs or miss that opportunity. Some behaviors may never take place. In addition, the dog may become disinterested before s/he succeeds.
Lure – risk for teaching your dog to perform only when food is present
Use food to get the behavior and then reinforce the behavior. Luring creates an additional risk for creating a dog that only works when food is present. The dog may or may not realize what behaviors s/he is performing because s/he is so focused on the food.
Shape – requires patience and perfect timing skills. Break down the target behavior into many small steps, get and reinforce each step until your dog knows that step, then get and reinforce each of the next steps which are progressively closer to the target behavior. Shaping requires patience and is a slow process (compared to bridge-n-target).
Bridge-N-Target – is the most efficient, but requires more skills from the trainer. Bridge and Target is a component of Syn Alia Training System, developed by Kayce Cover. .
Teach your dog to touch (or touch and hold for duration) a target with the applicable body part(s). This provides your dog with a physical location where success will take place. Communicate the correctness of the behavior(s) while in progress. Communicate a signal to indicate success.
Happy Training!
Alan J Turner – How's Bentley – Memphis TN
Reactive Dog workshops