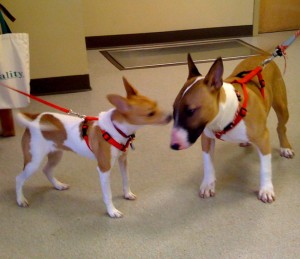 All dogs need exercise. The amount and type of exercise needed varies with each individual. The perfect amount of exercise is just enough for your dog to be tired enough to be a relaxed calm member of your household.
If your dog has lots of unused energy, it will emerge as annoyances. Tired pups and dogs don't jump up excessively, bark and whine excessively, destroy everything, run away, dig for hours, or pace the floor!
Mental and physical exercise should be part of your dog's daily routine. Long walks are a great exercise tool. It's best to take at least two long walks each day. Your dog will be mentally and physically stimulated. Short teaching sessions are great for exercising your dog's mind. Scatter feeding and scent games are wonderful methods to burn energy.
Children should play hide-n-seek, fetch or spend time teaching dogs. Everyone should avoid wrestling with young dogs. Wrestling with pups increases the pups' urges to play bite and teaches them that biting humans is ok. Many people with dogs that nip at their hands and clothes at every opportunity or play bite excessively have taught their dogs these behaviors by playing rough with the dog. Playing in the back yard for 10 to 15 minutes a day is not enough exercise for many young dogs. If the following sentences describe your dog, it is very likely that he or she is not getting enough exercise.
He paces from room to room.
She rarely lies down, even when others are relaxed.
He barks for attention.
She constantly steals objects.
He whines for attention.
She never stops jumping when people are visiting.
He digs, chews and destroys everything in sight.
She races along the fence barking at every other dog or person that passes by.
He runs away every chance he gets.
She digs under the fence, escapes and roams the neighborhood.
Here are two of my favorite foraging toys that can help exercise and stimulate your dog! You can get them at various stores, Amazon has good prices and I trust them.

Happy Training!
Alan J Turner – Reactive Dog Specialist in Memphis TN – How's Bentley