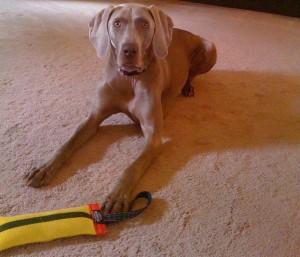 Sometimes we get so engrossed in stopping our dogs' behaviors, we overlook the simple solutions. Friendly, jumping up on guests is the most common problem reported by my clients.
Many dogs calm down after a few minutes, so this solution is for those guys, the dogs that are too excited to obey during the first few minutes, but do relax after their initial exuberance has passed!
We've all read the same books and advice. Attach a leash, prevent the dog from mugging your guests. Teach the dog to sit politely for greetings. Yuk! How boring!
In theory that sounds like great advice. But in reality, many people do not have the skills, the time, or regular guests to use for practice. And some dogs are too darned excited to sit! I prefer to give these turbo dogs another active and exciting task (besides jumping up on guests).
Here's my easy solution that will cost you under $15 and about 10 minutes to put into place. This works especially well for labrador and golden retrievers!
Try this jumping up solution with dogs that like toys, and are proud to prance with toys in their mouths.
Purchase a new toy. Dogs seem to really like fire hose material. The texture is a bit different and the fire hose is very durable. Amazon has a great selection. Here's the best one I've found at the best price.

You'll need to build a history of excitement and glee, and associate the toy with proud prancing, before you can use it in real life. You'll do this when no visitors are nearby.
Give your dog the new toy. Chase, praise, cheer, clap your hands, make high pitched repetitive noises. Do whatever it takes to get your dog prancing or racing around the house with the new toy!
After 3 minutes of excitement, ask your dog to drop the toy and place the toy near your door. Wait an hour and then repeat the fire hose toy playtime. This time, you'll label the game. Say something like, "Fire Hose" and then race to get the toy near the door. Give your dog the toy and cheer him on!
From now on, your dog only gets that particular toy when people visit your house. Say, "Fire Hose" and give your dog the toy the instant you open the door and invite the visitors inside your home. It's very likely that your problem of "excited dog jumping on visitors" will be replaced with a display of prancing and running with the fire hose toy.
Happy Training!
Alan J Turner – How's Bentley – Memphis TN
21st Century Canine Relationship Specialist
New iPhone app -Dog and Puppy Shake – Fun Facts and Trainer Truths
21st Century Dogs – Dog and Puppy Club