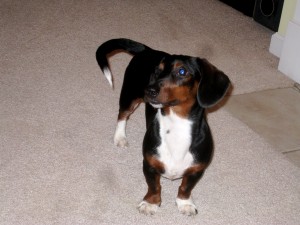 Barking in the Crate
When accompanied by eliminating in the crate, drooling, or self-injury, barking in the crate can be a sign of separation anxiety.
Dogs with separation anxiety have been compared to people that have anxiety attacks.
Separation anxiety is an emotional condition fraught with panic and fear.
Crating a dog with true separation anxiety is never a good idea.
Even if your dog exhibits only two of these symptoms, he could be truly distressed. If this describes your dog or you are not sure if your dog has true separation anxiety, ask your vet for the name of a canine behavior counselor.
Barking and whining can be normal signs of protest or a true alarm. I've met pups who bark to tell their people there's been (or about to be) an accident.
In some respects, a crated puppy can be compared to a baby, alone in a crib. If your pup is not wet, hungry, thirsty, or ill, let him cry.
Slowly introducing your pup by pairing the crate with meals and special treats usually removes most objections to being crated.
Even after you have properly introduced your dog to the concept of the crate, your pup may bark for short periods.
This is normal. Ignore the barking; don't make eye contact; say nothing.
For if you do, your dog will think he is on the path to freedom and will continue barking.
It's important to stick to your plan when teaching pups about crying in the crate.
If, after 30 minutes, you give in and release your crying puppy, he or she will learn that crying for 30 minutes is a good strategy for freedom.
Wait until your pup is quiet and relaxed before you praise and/or release him. This will teach him that being quiet and relaxed has good dividends!
If your pup barks for long periods of time, it is always possible that you are not meeting your pup's exercise requirements, crate-time is too long, or he is genuinely anxious. Review your exercise regime and review your introduction sequences.
Most normal, well-exercised dogs and pups that are gradually introduced will discontinue their barking strategy after a few episodes of being crated.
If this does not describe your pup or dog, start the introduction routine from the beginning or consult with a professional.
Eliminating in the Crate
When accompanied by drooling, self-injury, and barking, eliminating in the crate can be a sign of separation anxiety.
Other common causes are urinary tract infections, medical conditions, and medications.
If your pup or dog eliminates in the crate, first rule out medical and behavioral issues that might contribute to inside elimination.  Visit your vet first!
Most people limit crate time to include only the periods when they are gone, asleep, or unable to supervise their dog. If these periods are too long for the individual dog, then it's best to arrange for someone to exercise the pup.
An alternate plan is to set up the crate or confinement area with a bathroom as discussed previously.
Sometimes a puppy or dog has already formed poor elimination habits. These guys eliminate inside their crates and are not offended by the presence of their own waste. Here's how I address these situations.
Purchase a different style of crate.
Here are two different styles of crates you can buy at Amazon with free shipping.
Get an exercise pen. Move the crate to another location and place it inside the exercise pen. Cover the floor of the entire area with newspaper or house training pads.
Here's a great, black epoxi exercise pen,
for sale at at Amazon. Select the Super Saver Free Shipping!

Here's a suggestion I read in one of Ian Dunbar's books.
Place plastic on the entire floor of the confinement area and cover the plastic with grass sod.
Buy extra sod so that you can rotate the soiled sod outside for cleaning and replace it with clean piece of sod from the outside.
Place a crate inside the confinement area with the door removed. Follow the same instructions as newspaper training and slowly remove the grass sod from the area.
For even tougher cases, set up the confinement area with sod and discard the crate.
Happy Training!
Alan J Turner – Companion Animal Behavior Counselor and Trainer, Canine Specialization
How's Bentley – Memphis, Collierville, Germantown TN
21st Century Canine Relationship Solutions
Private Dog Training in Memphis TN
Reactive Dog Specialist