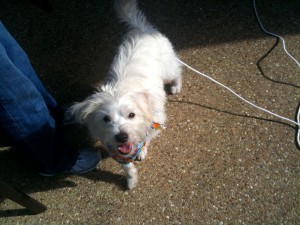 Puppies are cute, but not so cute when they attack your sock as you try to fit one on your foot! Ouch! That puppy just bit my toe!!
You really cannot teach your puppy when life is happening. Sometimes, you just need to prevent that rascal puppy from perfecting nuisance behaviors.
A tether is one of my favorite tools. A tether is a rope with a leash snap attached to one end. To make a tether, attach a leash snap to a 7-10 foot piece of nylon rope. I use 1/4″ nylon rope for small dogs, and 3/8″ or 1/2″ braided nylon rope to make a tether for medium and large dogs.  You can purchase the braided nylon rope at Lowe's or Home Depot.
Tethers provide a sort of half way house between being crated (or otherwise sequestered), and having full freedom to roam inside your house and get into trouble.  I advise clients to tether puppies when eating, changing clothes, or when entertaining friends.  Toss a dog bed on the floor, give your puppy a free range bullie stick, and tether your puppy to a piece of furniture near you.
You can use this free range bullie stick to condition your dog to "love" his dog bed. The free range bullies do not stink like the Merrick bullies stocked at local pet supply stores. CAUTION, This chew has the potential to turn Fluffy into Cujo! Read about Food related aggression by clicking anywhere in this sentence.
Click here for free instructions for teaching your dog to want to GO-TO-PLACE. .
Or, you can tie the rope around your waist and let your puppy shadow you throughout the house. The idea is to limit the puppy's choices, and to give your puppy helpful feedback about correct behaviors!
Or, you can tie the tether to a plush dog toy and drag the toy as you walk. That will give your puppy an alternative to chasing and play biting your feet and ankles.
If your puppy has not learned to come bump your target, let him drag a tether when playing outside.
Today I visited a client who had participated in a group class during the summer. As soon as I saw Peyton, a West Highland terrier mix, I remembered why my client enrolled. That guy is a yahoo turbo!!! We attached a tether and played a bit in the yard. Select the You Tube Video of Peyton linked below to watch this guy scramble!
Happy Training!
Alan J Turner – Companion Animal Behavior Counselor and Trainer, Canine Specialization
How's Bentley – Memphis, Collierville, Germantown TN
21st Century Canine Relationship Solutions
Private Dog Training in Memphis TN
Reactive Dog Specialist
New iPhone app -Dog and Puppy Shake – Fun Facts and Trainer Truths
21st Century Dogs – Dog and Puppy Club