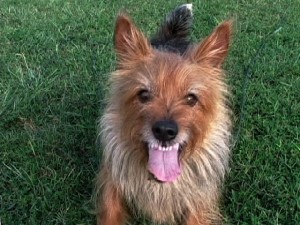 Okay, so your dog is barking and you have the perfect, initial solution; buy one of those anti bark dog collars, right? WRONG!
Please do not misunderstand, I agree there are situations when an anti bark collar is a good choice, but spraying a dog with citronella, sounding a tone, (or using an e-collar ) are never at the top of my list of tools and solutions for barking.
Anti bark collars address the symptom, not the causes. You may very well stop your puppy or dog from barking. But, if the dog is fearful, aggressive, anxious, stressed or neglected, an anti bark collar could increase these emotional conditions.
DANGER! YIKES! We love our dogs and puppies. We certainly do not want to harm them! Before you use an anti bark collar on your dog or puppy, take a moment to review these thoughts.
Positive punishment (immediately adding an aversive stimulus to reduce the preceding behavior) rarely makes your pet dog less fearful, less aggressive, less anxious, less stressed, or less neglected!
Dogs bark for many different reasons. In many instances, obedience training, a change of schedule, and/or adjusting something in the dog's surroundings will be part of the solution.
Here is a short list of resolutions I have suggested for clients:
Close the window blinds / pull the curtains
Crate train the dog (a crate trained dog is one who will relax in the crate, regardless of the activities surrounding the crate.)
Teach your puppy to relax in her crate
Teach the dog a polite way to get your attention.
Increase physical activities
Teach your dog to ring a bell to signal the desire to go outside (or inside)
Learn how to train your dog, and do it!
Teach the dog that all dogs and people are not dangerous or threatening
Teach the dog to relax
Teach "quiet" or "enough"
The first thing you should do is determine the root cause for the barking. Here are some guidelines for determining the cause of your dog's excessive barking.
Normal Barking – Resolve via Obedience Training
Attention Signal to Owners, Other Dogs, Other Pets
Wants to go outside / inside / into room / other side of gate / out of crate
Soliciting Attention
Begging for Food
Soliciting Play-time
Soliciting Interactions with other Pets
During Play, Before Walks
Barking at Door Bell, Door Knocks
Protecting, Guarding, Alarm Barking
Barking at Noises, People's Voices Outside, Television Sounds, etc.
Barking at Neighbors, Passersby, Joggers, Bicyclists, Trucks, Cars,
Strangers, Other Dogs, Birds, Squirrels, House Cats, etc.
Abnormal Barking – Resolve via Behavior Modification
Fearful – Distance Increasing Behavior
Barking at Cars / Trucks
Barking at Strangers
Barking at Dogs
Barking when confined in crate, laundry room, behind gate, etc (anxious barking is usually accompanied by excessive salivation)
Barking when alone
Happy Training!
Alan J Turner, Companion Animal Behavior Counselor & Trainer
Private and group dog training in Germantown, Collierville, and Memphis TN