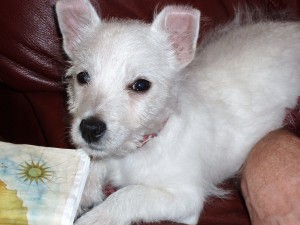 You have a very brief window of opportunity to socialize your puppy.
During the last century, experiments and studies concerning genetics and the social development of dogs were prevalent.
It is well documented that dogs that were deprived of social interactions with people and events during the sensitive or critical period of socialization were adversely affected.
The critical period of socialization begins when the ear canals open at about 21 days of age. The period ends anytime from 12 to 16 weeks of age.
Genetics and the Social Behavior of the Dog by John Paul Scott and John L. Fuller is a well-regarded book which documents experiments about the critical period of socialization.
Pups that are exposed to various events, multiple settings, other pups, other species, friendly dogs and a diverse mix of adults and children during early developmental periods are less likely to develop fearful or aggressive behaviors.
In addition, the normal physiological development of organs associated with the immune system can be enhanced or retarded because of increased or decreased early social interactions.
According to many studies, well-socialized puppies grow into dogs that navigate stressful situations well. Poorly socialized pups are more likely to become dogs that freeze, flee, or fight when presented with stressful changes in their environment.
Inside the circles of medical and behavioral health professionals, an ongoing controversy exists.
Medical health professionals are concerned about exposing non-vaccinated pups to life threatening diseases.
Veterinary personnel routinely instruct puppy owners to restrict their pup's excursions into non-sterile outside environments until the pups are fully immunized at 16 weeks. Their advice is warranted. Dangerous health risks are present in public areas.
The deadly parvo virus can survive for months in the environment. Roundworms and other intestinal parasites can live for years in the soil.
Many dangers are passed via animals' stools. If you are in a public area, don't allow your puppy to sniff stools or other dogs' rear ends!
Behavioral health experts contend that more dogs are relinquished or euthanized due to behavior problems than all medical conditions combined.
From a behavioral health point of view, pups should be exposed to diverse situations during the period from 8-16 weeks. With early exposures, fewer dogs would develop fearful and aggressive behaviors.  This controversy has a simple solution.
Expose your 8-16 week-old pup to stimulating situations that don't threaten his or her developing immune system.
Take your young puppy on car rides, visits to friends and neighbors homes. Hold controlled play sessions with healthy, vaccinated pups and friendly dogs. Invite many people to your house so that your pup can meet all types of people.
Happy Training!
Alan J Turner, CBC  – How's Bentley – Memphis TN
Certified Companion Animal Behavior Counselor – Canine Specialization