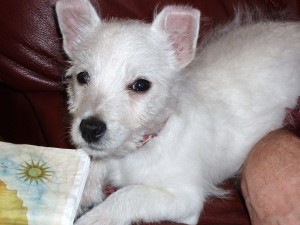 Your puppy's training starts the minute you bring that little furry critter home!
At this age, your concerns will be house training, play biting and socialization. However, you can introduce a young pup to basic commands: look, here, and sit. Just make sure your expectations are realistic, and be kind. Puppies and dogs do not ever need to be spanked!
Follow this link to see a video of Harry, a very young Norwich Terrier perform look, here, sit. The client is using a clicker for the instant reward marker.
Raising a perfect puppy is much more than teaching basic obedience and house training.
The truth is, every time you do anything with your puppy, your puppy is in class, learning. Chances are, you might teach bad habits if you don't think about your actions.
For instance, suppose your cute puppy raises up on two feet and places paws on your leg, and looks up at you with those "I love you" puppy eyes, and barks. Most of us will automatically reach down to touch or pick up the puppy. Yikes, you are  teaching your puppy to jump up and bark for attention!
Another common error is when children get on the floor and let the puppy jump, lick, and play bite as they wrestle with the puppy using their hands. It seems so fun and the puppy is so little. What's the harm?
This teaches the puppy that us two-leggers play just like other puppies. Sure, your 8 year old daughter is having some fun now! But in another couple of months, when the larger puppy tackles your daughter, nips at her clothes, and bites her (all in play), it won't seem so fun anymore!
Children should play games like hide and seek, sit for a treat, and chase the stuffed toy on a rope!
Happy Training!
Alan J Turner – How's Bentley
Private and Group Dog Training – Memphis, Germantown, Collierville, Bartlett, Cordova TN