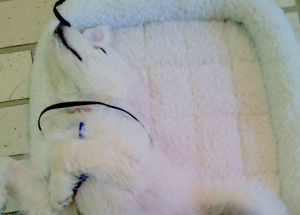 Living with an untrained dog can be exhausting, for years . . . and years.
We often develop elaborate plans for ourselves and our families that include life stages, education, careers, finances, property, vacations, remodeling, and one-time events.
The key to planning any event is to understand your goals and expectations. Raising a mini goldendoodle puppy (or any puppy) is a chore!
People who have a clear idea of their expectations and goals have much more fun!
Here are a few questions to help you with your puppy training plan.
What do I expect to gain from the relationship with my dog?
How would I classify our relationship with my dog – master/slave, buddy/buddy, owner/property, senior partner / junior partner?
How will my dog's life stages affect my family?
How long will my dog live?
Which skills will s/he need to develop?
Which behaviors make up the skills I desire?
Which behaviors should be first on my list?
Wouldn't it be neat to develop a global training and care plan for your canine companion? To read more about puppy training plans, skills and behaviors, please visit this dogand page Dog & Puppy Training Plan-Obedience Commands
Happy Training!
Alan J Turner – How's Bentley – Memphis TN
21st Century Canine Relationship Specialist