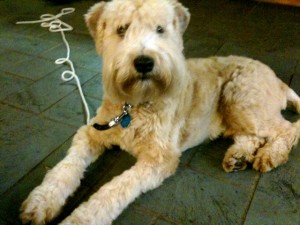 Most of us would not walk an untrained puppy, off leash, next to a busy street. We realize the puppy is not trained, and she may wander into the street and get hit by a car.  We use a leash to keep the puppy safe.
Inside the house, it's a little safer. No cars are going to break your puppy's legs, and your puppy can't run away from you and get kidnapped or lost. But she can get into trouble and be quite a nuisance!  You can always crate your puppy, but that doesn't teach her how to behave inside the house.
The same applies to backyard adventures. Puppies dig in flower beds, run on top of pool covers, chew air conditioning low voltage wires and eat plants – RIGHT in FRONT of YOU! You are not going to teach your puppy by yelling and screaming or spanking when the puppy gets into trouble. Your job is to prevent the puppy from practicing naughty behaviors. You'll teach that rascal later, but for now, PREVENT the practice!!
You need a sort of halfway house, something between crating and letting your puppy run loose and terrorize the backyard or household.
The easy solution is to use a tether. A tether is a rope, with a snap attached to one end.  It's like a leash without the handle. You can tie the loose end around a doorknob, table leg, or your waist to prevent your puppy from stealing objects and racing through your house. Never tie your dog to a piece of furniture and leave him. Tethers are for the times when you are nearby. When guests come over, ask your puppy to sit and then step on the rope to prevent jumping or racing out the door. I like to tie it around my waist so I can give Bentley instructions, and tell him what to so (sit, down, stay, etc.) when life gets exciting.
I buy 50 foot packages of nylon rope from Lowe's to make a tether. The rope is round, and unlike a flat leash with a loop, it's not as likely to get wedged under a furniture leg. The rope is inexpensive. I buy smaller diameter rope for small dogs and 1/2″ or 5/8″ diameter for medium and larger dogs.
If the puppy chews it, so what? I'll have a shorter tether or make a new one.
I like them to be 5-9 feet. That gives me enough slack to wrap the tether around my waist or around a piece of furniture.
Attach the tether and let the puppy drag it as she explores your den. You can step on the tether to keep her from jumping up or running away with your remote control.  You can tie it to a piece of furniture with a dog bed nearby. You can wrap the end around a door knob as you change clothes. You can use the tether outside too.  Instead of calling and calling, and having your puppy ignore your come command, just pick up the rope and coax her to come to you.
If you use the tether, it's a good opportunity to teach your puppy about leashes, collar pressure, and staying connected to you. Instead of pulling the puppy with the rope, use your charm and coax her to stay nearby. Practice LOOK (attention on cue) and HERE, as you putter around the house.
If you prevent your puppy from practicing bad habits, you will be glad!
Alan J Turner
How's Bentley – Memphis
Private and Group Dog Obedience Trainer
Collierville, Memphis, Germantown TN