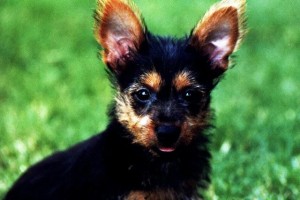 I'll be perfectly honest. I made all the same mistakes as anyone who every owned and raised a pup. I'll never forget one of the many incidents when my newly adopted, turbo terrier, 10-week old pup, Bentley, was unsupervised for only a moment. In less than 10 seconds, he breeched a baby gate and enthusiastically bolted into the off-limits, living room.
He immediately attacked the most valuable ornament in the room, the curtains – the very curtains that my wife had so artfully created over a period of months, the very curtains that were so carefully displayed with cascades of expensive silk, the very delicate curtains that flowed from the ceiling and onto the floor into a calm pool of rich texture and colors.
I looked into the room. Bentley was engaged in battle, an incident that would eventually reach epic status and be referred to as The Great Curtain Battle of 1999.
Bentley had the ranks of the curtains pinned to the floor with his massive five-pound body. His head was raised and he was aggressively tugging the draperies in an all out effort to dismantle the entire arrangement! I could envision the rod swaying with each tug. Giving in to my excitement, the word NO loudly exited my lips.
Bentley stopped for about one second, looked my way, and re-engaged the enemy with increased vigor. Oh no, I thought, he accepted my input, not as a signal to disengage but as a challenge to escalate the fight! I moved closer, repeated my futile attempt with a very loud, low-toned NO. Again Bentley modified his attack. He added a curtain-intimidating, terrifying war growl to his assault!
I was standing over Bentley when I delivered my final protest, a very distinct, sub-woofer version of NO (bigger hammer?). At last, he ceased the assault. Bentley stopped tugging. Bentley lowered his previously-high-tilted tail. . . . .
Bentley lowered his previously-high-tilted head. . . . . .
Bentley lowered his previously-forward-tilted pricked ears. . . . . .
In one smooth, sad, motion, he lowered his whole body and urinated on the curtains under his feet.
Post-Battle Discussion
Ignorance is never shy. Ignorance often demands center-plate billing, garnished and displayed like filets of rainbow trout, with colorful spices on beds of multi-textured, wild rice. The Great Curtain Battle of 1999 represents one of the many instances when my delicious lack of knowledge about animal behavior and learning was presented, highlighted, glorified, and consumed by an animal that did not subscribe to popular, inaccurate, non-scientific, communication techniques.
It was that precise moment when I realized this little guy was sure to place all my ignorance about animal behavior and learning on naked display. This guy was different. Although NO seemed like an effective strategy with my previous dogs, it had failed miserably with Bentley. The urine-soaked silk and the fear that was displayed by his tiny trembling body transmitted my failures quite clearly.
It was obvious that my failure to manage the environment, my lack of preparedness, and my failure to communicate, had taken a toll on my relationship with this young, exuberant pup. . .   . To this day, I am still sorry that I momentarily transformed an exuberant, playful, young, happy, curious, adventurous, pup (a pup with too much freedom and not enough structure) into a fearful, distrusting, unhappy, and confused, urinating pup. . . . . . . (OK, ok,. . . . .  enough with the drama. . .  don't feel badly for Bentley. . . . . . . . as always, Bentley recovered quite quickly!)
Let's take a look at exactly what Bentley learned, didn't learn, and what he might have learned if I handled the incident differently.
Remember, every behavior that is reinforced will be repeated. All the maneuvers of the battle (before the last few seconds when I unkindly crushed Bentley's enthusiasm) were reinforced, because the immediate consequences of each step were appealing to Bentley. Each step he performed served to achieve his immediate goal. Yes, Bentley learned some valuable lessons, but unfortunately none of them were on my list of concepts and behaviors I wanted to teach.
Bentley learned:
it is a great strategy to be persistent when breaking through barriers
exciting new items and fun games are on the other sides of barriers
charging and battling the curtain were exciting and fun behaviors
his assumptions that I would partner with him in battle were incorrect
the curtain was a fierce and formidable opponent
my approach might be followed by a scary attack
Curtain battles raged for the next few months – apparently no form of punishment was an effective repellant for 'must-topple-or-pee-on-curtain' behaviors – and apparently my preventative tactics were flawed
the curtain became a permanent magnet for inside elimination because we couldn't properly clean the silk fabric embedded with numerous dangling chords and beads
the curtain was finally retired after numerous battles and soiling had displaced its beauty
Bentley did not learn:
about respecting baby gates (quite the opposite!)
about 'staying out' of the living room (quite the opposite!)
about 'not-battling' the curtain (most definitely the opposite!)
that NO was a signal for him to stop
Was it a Timing Issue?
Maybe the timing of the NO was my major failure?
If I had delivered a protest during his first attempt to break through the baby gate, perhaps he would have learned that breeching barriers in my presence was an unsafe strategy? Hmmm…. not really on my list of target concepts or behaviors I'd like to teach. Can't baby gates be used as barriers when people are absent? I wanted him to respect barriers in my absence, not only when I was present.
If I had delivered a protest the instant he was bolting into the living room, perhaps Bentley would have learned that bolting into living room was a dangerous strategy? Hmmm . . .  again, not really on my list of target concepts and behaviors I'd like to teach. I don't want him to be afraid of traveling into the living room.
If I had delivered a protest the instant he grabbed the curtain, perhaps he would have learned that battling the curtain might cause me to attack him? That's assuming he would have associated the NO with his behavior of grabbing the curtain, an unlikely assumption at best. He would be more likely to associate my approach and my presence with the NO. After all, my approach would be the most obvious event that immediately preceded the NO! Hmmm…. Not quite the relationship I intend to establish. I don't want my dog to be afraid of my approach!
NO not effective?
It appears that NO was not an effective strategy, but a miserable failure for teaching Bentley anything useful during the Great Curtain Battle. So, what should I have done and how can I use NO effectively in the future?
I should have:
Managed the environment by preventing the battle altogether

Taken advantage of the initial Interrupt, the one-second pause after the first NO, to Redirect Bentley to perform another, more desirable, replacement behavior and then delivered Praise for complying with my Redirect.
NO can be an effective Interrupter or 'First Step' for teaching polite behaviors. Interrupt RedirectPraise is the most efficient context for NO.
The Truths of NO:
NO can be an effective interrupter in some situations.
More confident pups might translate our lower voice tones or louder volume of voice when we deliver NO as a playful challenge. It's nothing more than a welcome invitation for confident pups to escalate their activities!
Less confident or shy pups become frightened when we bark out stern NOs. They might freeze, flee or urinate in fear. Personally I would never knowingly trade my enthusiastic, happy, curious, mischievous turbo terrier for a fearful, frozen, fleeing, or urinating pup!
Compliance with NO is dependent upon the pups' personalities and the situations at hand. It depends on the volume and the tone of the word NO. It depends on the levels of cooperation we have previously developed with the pups.
Compliance with NO also depends on how motivated the pups are to complete their current undesirable activities. For example, NO might work well when your pup is snooping in your closet, a closet that he has investigated many times before. The same pup may ignore the NO if he just breeched a baby gate and is exploring a forbidden room. Those craft projects spread out on the floor are so stimulating and desirable that he doesn't even seem to hear the word NO!
NO is an Interrupter. Used alone, NO is an incomplete sentence. NO is only one third of a valuable teaching sequence, Interrupt



Redirect



Praise.
After delivering NO, we should immediately take advantage of the NO Interrupt and complete our sentence. The best teachers enthusiastically engage and Redirect their pups and dogs to perform an alternate, acceptable behavior.
The instant our animals start to comply with our Redirect request, we should deliver Praise, some sort of reward, thus increasing the replacement behavior via positive reinforcement.
To use this sequence, we should identify, teach and practice the Redirect behavior in many situations before we use it in real-time. We should take our dogs through each grade of performance! For instance, we should practice sit in mildly distracting situations before we practice sit when guests come into our homes or when kids are running.
Manage the Environment
On the day of the Great Curtain Battle of 1999, Bentley the 10 week-old puppy had lived with me for about six days. By day two, I realized this turbo puppy was likely to 'explore-himself' into trouble anytime he was unsupervised for a few seconds. Recognizing that it was only a matter of time before he conquered the gate, I should have attached a tether, a sort of umbilical cord. To use this prevention tool, get an 8-10 foot line and attach one end to your pup and the other end to your belt. A tether is a management tool, not a teaching tool.
Management Tools
Management tools are short-term, preventative measures. Think of them like diapers on a baby. We all know that babies will eliminate anytime, anywhere. We all know that it's impossible to teach a 3-month old baby about potty training. We all know that the day will come when it is time to teach the child potty skills. So, until the time is right for teaching, we use a temporary management tool. We use diapers.
The same applies to our pups. It's impossible to teach them everything they need to know in one or two days, or one or two months! We all know that pups and dogs will get into the trash, jump up on counters, urinate in homes, steal our clothes, tug the curtains, chew the furniture, jump up on guests, bolt out doors and gates, run into the streets, dig in the gardens, et cetera.
With all this 'knowing' going on, it's amazing that 90% of most complaints about unruly canine behaviors would be non-existent if the people used short-term, preventative, management tools, like leashes, tethers, secured baby gates, and crates. None of these short-term tools teach our dogs, but, like diapers, they can serve a very useful purpose during periods when teaching cannot take place.
It's tough to teach pups how to behave nicely when they are happily engaged and practicing unruly behaviors. If you haven't yet taught your pup how to behave around guests and your dog is soon-to-be exposed to visitors, use the diapers! Attach a leash to prevent your dog from practicing mug-the-guests behaviors!