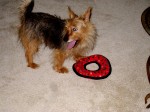 I have these dog goodies linked on this site so my clients can find the best items at the best prices! I mention many of these items during group and private dog training sessions.
You can get these toys at many stores. I SHOP at AMAZON and SIT STAY for the best deals from reliable sources. My 10 year old Australian terrier,Bentley, loves each of these items (well, except for the head collar). Each item has been "terrier tested" for durability!
Here, you can find foraging /food dispensing toys, gentle leader head collars, squirrel dude, fire hose dog toy, and other How's Bentley approved dog supplies and equipment. Just click the image to shop at Amazon. I get a small percentage of whatever you buy, but I'm not making a living at .40 cents per $10. 🙂
Here's the Fire Hose toy for the Fire Hose Game. The Fire Hose Game is a simple solution for friendly dogs that get excited and jump on visitors. The toy floats and is great for games of water fetch. Fire hose is tough! But, this is not a chew toy, your dog can dismantle it by attacking the seams. The unique texture of the fire hose makes this a hit with all puppies and dogs.
You can use this free range bullie stick to condition your dog to "love" his dog bed. The free range bullies do not stink like the Merrick bullies stocked at local pet supply stores. CAUTION, This chew has the potential to turn Fluffy into Cujo! Read about Food related aggression by clicking anywhere in this sentence.
Click here for free instructions for teaching your dog to want to GO-TO-PLACE. .

The tug a jug is a commercial version of water bottle toy. This thing is tough! Bentley will carry it in his mouth, jump up into a patio chair and drop the jug on the rock patio. I keep waiting for it to break, but no cracks yet! This is better for medium or large dogs. Bentley is about 20 lbs., and the toy is on the large size for him.
The Gentle Leader Head Collar offers the most control among head collars. It does take a bit of learning to use, and is not for all dogs or people. It will not fit dogs with flat faces. I refer to the Gentle Leader head collar as a nylon valium. It has a natural calming effect on some dogs. If you are fitting and using without a trainer's help, CLICK the image to order from Sit Stay which includes a dvd video.
Not all harnesses are created equal. The Premier Sure Fit Harness is the best harness out there! You do not have to slide your dog's leg through a loop or buckle it on the belly. Other brands are a nightmare to fit and the dog can slide out of the harness. In addition, many of the harnesses do not distribute the force of the leash to the dog's body, as a good harness should. If you have a small dog, I recommend a small, Premier Sure Fit Harness. Sit Stay has a great price. CLICK the image to visit Sit Stay and shop for Premier Sure Fit Harness.

Say, regardless of the equipment you like, you'll need a 6 foot, leather training leash to teach Basic Obedience COMMANDS.
Here's a link to Amazon, who has the best price for a braided, 6 foot, 1/2″ leather leash.
The Busy Buddy Squirrel is one of my favorite hollow rubber foraging toys. I like this design; the opening has rubber fingers that keep the dog kibble from falling out. Your puppy will have to work for the food! The squirrel design is cute, but Bentley keeps running to my patio door when I ask him to find the squirrel. It's one of our favorites!

Kong- Hmm. . . what can I say? Everyone should have 2 or 3 of these! The kong is an all time favorite and tough foraging toy for any dog or puppy. Amazon has excellent prices on these famous Kong toys. You an get a large kong for under $8. Order two or three and follow my frozen chicken broth recipe for crate training help. The kong provides excellent foraging and entertainment value. If your dog is an aggressive chewer, order the ultimate black kong!