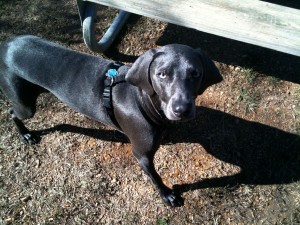 Today I went with my clients, Derrick and Megan, to Shelby Farms to exercise Bimmer, their 1 year old Weimaraner dog. Scroll to the bottom of this post to watch 2 iPhone 3Gs videos of Bimmer playing fetch.
I first met the clients January 2009, when Bimmer was a puppy. Derrick and Megan were model students, and it shows. Bimmer was an excellent guest at the dog park. Derrick and Meagan have a wonderful Weimaraner dog who is well mannered and loads of fun! That's not the case with owners who do not obedience train or exercise their dogs.
If you do NOT teach your puppy basic obedience and provide enough stimulation for your dog, problems will emerge. Excessive digging, escaping, jumping, barking, chewing, and destruction are common signs that an untrained dog's needs are not being met.
At 4.500 acres and 20 bodies of water, Shelby Farms is one of the largest municipal park in the USA.
In the lower picture, Bimmer has a fire hose fetch toy. I could throw this toy much farther than the plastic retrieving dummy. Dogs seem to really like fire hose material. Although it's not a chew toy, the texture is a bit different and the fire hose is very durable. Amazon has a great selection. Here's the best one I've found at the best price.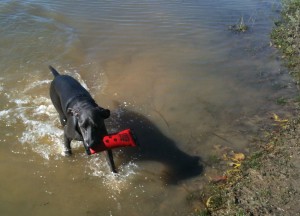 Click below to see 2 videos taken with iPhone 3Gs. The Splash is my favorite!
Fetch

Splash

Happy Training!
Alan J Turner – How's Bentley – 21st Century Canine Relationship Solutions
Reactive Dog Group Workshops
Mini-Obedience Courses
Group and Private Dog Training in Memphis, Collierville, Germantown, Bartlett TN
New iPhone app -Dog and Puppy Shake – Fun Facts and Trainer Truths
21st Century Dogs – Dog and Puppy Club