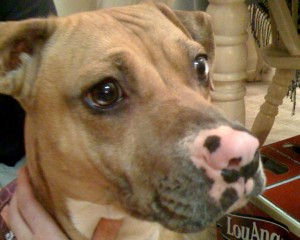 All animals' instincts are to forage for food and to look for a mate. We've pretty much eliminated those two important tasks, and some dogs are out of balance.
Instead of feeding your dog with a bowl, exercise that rascal and have some fun!
You can enrich your puppy or dog's environment by providing foraging toys. Most dogs love the Tug a Jug!
Penny, the sweetest Pit Bull Terrier ever, pictured in this post, is hoping to find one in her Christmas stocking!
My dog, Bentley, loves the tug -a- jug. When I place dog kibble inside, he knocks it around a bit and gets most of the dog food. When I mix in a few tasty Paws Kickin Chicken treats, he gets downright excited. He'll toss it much higher and farther for these Kickin Chicken treats! Click the Paws Gourmet Kickin Chicken Words below to get your Kickin Chicken from Sit Stay, one of my favorite online dog supply stores.

Paws Gourmet, Kickin' Chicken, 16 oz.
The tug -a- jug is filled with dog kibble in the video.
The Tug a Jug comes in 3 sizes, so there's one that's just right for your puppy or dog.
Click the Tug a Jug picture below to visit sitstay and order one for your dog!