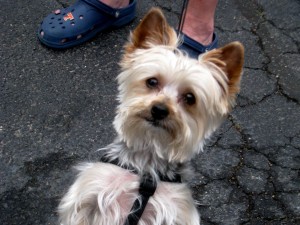 Many of my clients become engrossed, almost obsessed, with the notion of stopping their puppies or dogs from performing some obnoxious or naughty behaviors. They believe that teaching a dog what "NO" means, is the method to train.
That, my friend, is a long and rocky path, which can spiral into trouble and frustration.
You will succeed much quicker if you focus on:
preventing the rude behaviors (be proactive)
increasing the good behaviors (teach your dog what he or she should do in a particular situation)
For instance, suppose the puppy is jumping up on guests. Some of my clients address this common problem by grabbing their dogs' collars and pulling them off the guests, while saying "NO".  Other clients instruct their guests to knee the dogs in the chest. How primitive! 🙂
I'm not saying you shouldn't interrupt jumping behaviors, you should. But every time you grab your dog's collar, she just scored a goal, and you are not even aware that the game has begun!
Using your knee to punish jumping is equally inefficient, and not a good choice for many situations. How does that work with a 5 pound Yorkshire terrier? a 85 year old client? Even if you have the motor skills to pull it off, and your dog is the perfect size, it will only teach your dog that jumping on you is a bad idea. It will not necessarily stop your dog from jumping on every one else. And it gives your dog no useful information about what he or she should be doing at that exact moment.
You know that your dog will jump and nip. Instead of waiting for your dog to misbehave and then reacting, be proactive.
Attach a leash or tether and prevent your puppy from practicing rude behaviors. You are not going to yell and jerk the leash, just calmly hold the leash and prevent the behavior. Teach your dog Basic Obedience Commands, so she will know exactly what to do when people approach.
Happy Training!
Alan J Turner – How's Bentley – Memphis TN
Companion Animal Behavior Counselor & Trainer
Private and Group Dog Obedience Training in Memphis, Collierville, Germantown TN