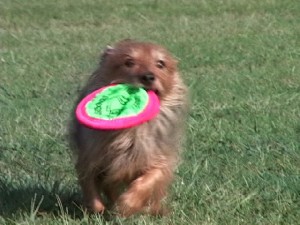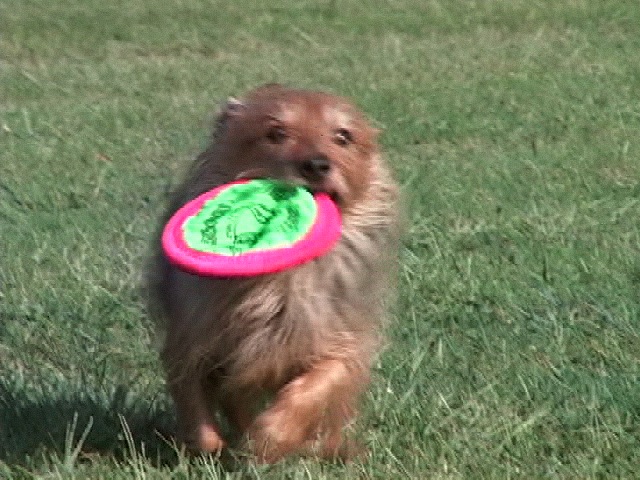 Dogs and puppies pull during walks because, from their points of view, it works. They get to move forward when they feel the pressure of the collar or harness against their bodies. Every time your dog pulls while walking on lead, he or she is learning to pull. The behavior is being fertilized! It will grow and become strong. Yikes!
There are many methods and tools one might use to teach a dog or puppy to walk nicely on a leash. Many people are content to only "halfway" address the behavior. This is evident by the number of people who use pinch collars, choke collars, Gentle Leader head collars, no-pull harnesses, Weiss Walkie, or any other STOP pulling equipment, forever. Their dogs will not walk nicely unless the threat of discomfort is present via the fitted equipment. The equipment is a condition for "walking nicely" behavior. Without the equipment, the dog pulls. With the equipment, the dog heels by the handler's side or walks on a loose lead.
What I meant by "halfway" is this: the tools and equipment, just like verbal corrections and jerking the leash, are designed to STOP pulling. That's okay by me; you can use the equipment forever and your dog will not pull. But, do not confuse that with teaching your dog to walk nicely or to heel. What you have done is convinced your dog to walk nicely by the threat of equipment pressure! My goal is to use the equipment as a temporary aid, while I teach the dog to walk nicely. Then I can use the equipment or not, depending on the environment.
My current favorite tool for controlling an exuberant dog during walks is the Canny Collar.
If you want to discontinue the use of equipment, you have two target goals. One is to STOP the pulling behavior, the other is to START "walking nicely" behavior!
I know what you are thinking, "my dog always pulls on walks; how can I use rewards to increase good behaviors if the dog never ever walks without pulling?"
Glad you asked. Start with the basics. Teach your dog to stand with you on a loose lead, before you teach your dog to walk without pulling.
First you'll teach your dog to stand near to you, with a loose lead, before you ever start walking. You will teach a command that means, "look towards me, I will pay you!" I call this "Attention on Cue – while standing".
Next, you will practice "Attention-on-cue" in many different locations, while adding distractions. Then you practice "Attention on Cue – while walking". Take a step or two with your dog and ask for the look.
Finally you teach your dog "Attention without Cue – while standing", then "Attention without Cue – while walking". "Attention without cue" is when your dog checks in or looks at you voluntarily, without any commands or cues from you.
Once your dog has mastered "Attention", you can start working on loose lead walking or heel. With a bit of time and effort (and the knowledge to teach attention), you can discard your pinch collar, choke collar, Gentle Leader head collar, et cetera!
Visit this page to learn how to teach your dog Attention-on-Cue, While Standing.
Attention-on-Cue, While Walking
After your dog has mastered Attention-on-Cue, While Standing, it's time to add the distraction of walking.
This skill is a component of "walk-on-loose-lead". It would be better to play without a leash, in a hall or narrow walkway, until your dog learns the game. Then you can practice in the back yard or on leash in public.
I taught Bentley this behavior on my narrow, front patio walkway. I started the game at the gate, so Bentley had only one direction to walk.

Get some high-value treats. Start at the end of the hall or narrow walkway. Practice "attention-on-cue, while standing". Perform 2 to 3 trials.
Then somehow get your dog to walk ahead of you as you both start walking. I told Bentley "this way" and started walking forward, but you don't necessarily need a cue. Just start walking and your dog will probably start walking too.
As soon as your dog is "a dog's length" ahead, give your attention-on-cue command. Mark the instant your dog turns his or her head towards you.
Walk back to the starting point (end of hall) to deliver the treat. This is called one cycle or trial. The cycle began when you started walking and ended after you delivered the treat.
Repeat, but on the next trial, let your dog get 2 dog lengths ahead before you give the cue.
On the subsequent trials, you'll increase the distance by one dog length each trial. For example, your dog will be 5 dog lengths ahead before you give the command during cycle 5.
Increase the distance during each trial until your dog will look back towards you when he or he or she is 8-10 feet ahead.
.
The distance change from cycle to cycle can be very small or large. In the example, I used one dog length as starting distance and increased the distance by one dog length each cycle. You might start at one foot or even 1″ . . . whatever it takes to get the behavior.
Once your dog will perform without distractions, ask someone to stand in the hall while you practice. Then ask them to move their arms, tap their feet, sing, et cetera, while you practice. The goal is for them to become just a wee bit more exciting from cycle to cycle.
After your dog has mastered the behavior in the hall or narrow walkway with distractions, move to a different area with different distractions.
Even though your dog performs well inside, with minimal distractions, be prepared to repeat the beginning steps of the exercise whenever you add distractions.
Attention – Without Cue
Attention-without-cue is helpful when you are interacting with the dog and you want the dog to ignore other distractions and stay connected to you. This is a prerequisite for loose lead walking.
Here's how to teach the dog to stay connected to you.
This exercise places the responsibility of 'staying connected' on the dog, not the handler.
Place your dog on a 6 foot leash. Stand quietly in one area. Your dog will sniff and explore. Be patient. Say nothing. Wait until the dog looks at you.
MARK the instant the dog turns his head towards you and then deliver a treat. Repeat until the dog is constantly looking at you. When this occurs, move to a different location a few feet away. The dog will be momentarily distracted. Repeat the process in the new location. Do this in 3 different locations each session. Hold 3 sessions each day for optimal results!
Once the dog gets better at volunteering the look, repeat the process with a longer leash. A longer leash gives the dog more choices of things to explore, which is the next grade or level of distraction.
As you practice this behavior, you can add other distractions like people standing or walking, other dogs, et cetera.
Once your dog is voluntarily checking in while you are standing, wait until your dog is not looking and take a step or two. If he or she moves with you or turns towards you, mark the instant he starts to move. This is a great way to begin teaching your dog to walk nicely on a lead.
Happy Training!
Alan J Turner – Companion Animal Behavior Counselor & Trainer, Canine Specialization
Private and Group Dog Training in Memphis TN
Owner: How's Bentley