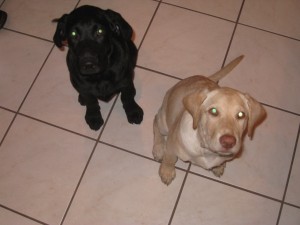 Anyone of the millions of dog owners knows . . .it's easy to fall in love with puppies! How many of you went to "look" at a litter of puppies, only to arrive home with a new canine addition? These guys pull at our hearts!
An even stronger heart tug is when only two puppies are left. Many people make split second decisions to adopt both puppies. People are thinking,"heck, it's not much more trouble to raise two puppies instead of one puppy. And I don't want to break up the family. They can entertain each other, right??"
Yes, adopting litter mates is easy; raising and training litter mates is not so easy!
You see, litter mates often become "one unit".
They sleep together, eat together, play together and are never alone, even when their humans are off to work. The puppies become best friends and all seems well.
Challenges with this oneness arise as they get older.
You'll notice that when apart, the dogs are not quite the same. This may not sound like a problem, until you live it.
At some point, you'll need to separate the dogs for training, walking, emergency vet visits, et cetera. Depending on how the puppies were raised, these brief split ups can be very traumatic or non eventful.
Now, they are 7 months older and much stronger. You haven't really taught them to walk nicely on a leash, and they pull like crazy. When someone comes to the house, you have to grab their collars and prevent them from mugging the visitors. You can get one dog to sit politely for a moment, but the other one jumps and barks. By the time you get dog # 2 settled, dog #1 is through being polite and starts to jump and bark. It's a circus!
This scenario is even more frustrating when one dog is naughty. It's impossible to fix behavior problems such as fear, anxiety, aggression without separating the dogs.
You now realize it's impossible to train 2 dogs at once; you decide to take one dog outside for training. The instant you exit the house with one dog, the other dog is whining and crying in the doorway, not quite sure why he or she has been abandoned. The dog outside with you is hesitant to walk away from the house, puling at the lead, trying to get back to his or her playmate. Neither dog will eat a treat, or pay any attention to people, because they are very anxious about being apart.
Help your Litter Mates Become Independent
If you have litter mate puppies, teach them about being apart when they are young and not fused together. Take one for a walk, then take the other. Crate one puppy while you teach the other basic commands. Spend time with each puppy, when the other puppy is somewhere else. Do this from the start. Your puppies will be less likely to freak out when they are apart.
Happy Training!
Alan J Turner – How's Bentley Memphis Dog Trainer
Group and in-home, private dog training sessions