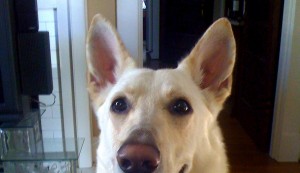 On How's Bentley Private Services Enrollment Form, the box labeled "For Protection" is often selected as one of the reasons my clients acquire their pet dogs. I understand why people select a pet dog for a protection role.
I have worked with more German Shepherd Dogs in the past year than the previous 3 years. I believe the current political and social cultures are responsible for people choosing dogs like German Shepherd Dogs, Doberman Pinchers, and other guarding dogs with "vicious" labeling. We are more fearful as a country than we were 15 years ago. That is reflected by the breeds of dogs that we choose. OOPs, this is off topic. I'll talk about dog breed selection trends in the suburbs of Tennessee at another time.
Many people expect their dogs to be natural protectors and body guards. Too bad it's not that simple.
It's not that dogs won't protect. Some dogs will naturally growl, snarl, bark, snap and bite when anyone approaches.
That's the problem. Some dogs protect us from everyone. Dogs growl, snarl, snap and bite family members, house mates, friends, children, neighbors, cable guys, even pizza delivery couriers. That's just rude. I need my pizza. Please Killer, spare the Domino Pizza guy.
Our pet dogs are not any better at determining who is a threat than the average Joe. We have these opposable thumbs and large brains, yet very few of us can determine which people in a busy suburban mall parking lot are about to attack us. Our untrained dogs have a solution. Bite them all and let the alpha dog sort them out!?
YIKES! The point is, you must take time to obedience train your dog before you can have a dependable protection dog. The last thing you want is a dog that decides every stranger is a threat and acts without your input!
True personal protection dogs are very well trained in all aspects of basic and advanced obedience and many participate in Schutzhund, a dog sport that originated in Germany. True protection dogs will stop attacking when their handlers command them to disengage.
Before you select a breed of dog genetically bred for natural, protective tendencies, talk with a trainer who can help you teach the dog basic obedience. For if you have a pet dog that is aggressive towards everyone, and will not stop when you call, you do not have a protection dog. You have a liability.
Happy Training!
Alan J Turner
Companion Animal Behavior Counselor and Trainer
Private Sessions to Help Aggressive and Fearful Dogs
How's Bentley- Memphis, Collierville, Germantown, TN
Canny Collar Supplier
USA Customers PURCHASE CANNY COLLARS CLICK HERE – $32.90 USD includes shipping.