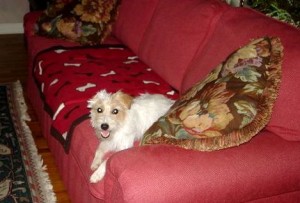 Every day, I speak with clients about meeting their dogs' basic needs. Most of us assume our dogs are getting plenty of exercise and stimulation when the dogs are alone (or with other dogs) in a large fenced area. The dog is in the great outdoors, so she must be getting enough exercise, right?
Wrong. This is not usually the case, unless you have a turbo Jack Russell Terrier, like the one pictured in this post. Crisco hunts and chases critters for hours. Occasionally she'll dig, because, she's a terrier! Do not be surprised when your terrier redesigns your flower beds or digs up a shrub. The word terrier comes from the Middle French terrier, derived from the Latin terra, meaning earth. Get it? 🙂
Some dogs do know how to entertain themselves when alone in the yard.
All dogs, and especially guarding types such as German Shepherd Dogs, are at risk for refining territorial aggression if their primary jobs involve constant watching and barking at people and other dogs that pass by the yard. Yikes, that can't be good!
Beagles and hounds may bay or bark for hours on end.
Labrador retrievers and other breeds dig, destroy fencing and furniture, chew low voltage air conditioning wires, lick bar-b-q grills, dismantle wooden decks, scratch back doors, run along fences and bark at the dogs next door, et cetera.
Some of my clients keep their dogs in the back yard because the dogs are ill mannered inside the house. The same dogs are ill mannered in the back yards.
If you want to reduce normal, unwanted behaviors, you'll need to meet your dog's basic needs. Make a list of behaviors you would like from your dog. Learn about training methods and teach your dog. Take your dog for daily walks in the neighborhood.
You can have a rude dog who makes your life miserable, or you can have a well mannered pet. It's your choice. Visit other pages on this dogand site to begin your adventure.
Happy Training!
Alan J Turner
How's Bentley – Memphis TN – Canine Relationship Solutions
Private and Group Dog Obedience – Memphis, Collierville, Germantown, Bartlett, Cordova TN