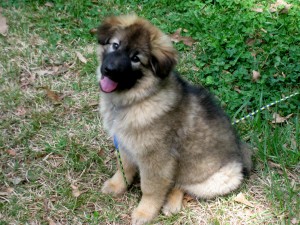 Did you want to teach your 10 week old puppy to sit? Forget about it. 🙂 It's too late.
That turbo charged puppy already knows how to perform every basic obedience command!
Your dog knows how to sit and lie down. He can stay.  Your pup knows how to walk towards you. Your puppy knows how to run to you. Your puppy dog can walk the same speed as you. That fellow knows how to dig, or "not dig". Your puppy can bark, and he knows how to "not bark".  He can certainly choose to jump up, or "not jump up".
Your goals are to learn how to communicate to your dog WHEN, WHERE, HOW LONG, and WHY he or she should perform basic commands.  You will succeed if you build a relationship based on clear communication, and well managed rewards for cooperation.
21st Century dogs live in our homes and sleep in our bedrooms. Unlike most of the the last century when dogs were outside pets or workers, raising a dog to live inside your home requires much more than basic obedience.
Your dog's behaviors are influenced by your behaviors, and the  relationship between you and your dog.
My goal is to help you achieve your goals via private or group services, and by providing free information.
Happy Training!
Alan J Turner – How's Bentley Memphis TN