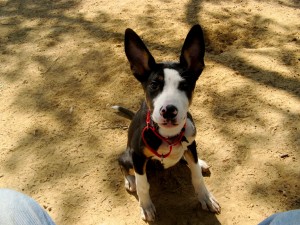 When it's cold outside, when traveling, or anytime you are about to leave the house, it's wonderful when your dog will eliminate or potty on command.
It's easy to teach your dog two different commands or cues, one for urination and one for defecation.
It helps if you are already familiar with your pup's potty signature. Observe your pup closely so you'll recognize when he is about to eliminate and you will recognize if he is going to urinate or defecate.
Choose three words or phrases– one for the act of moving to the bathroom area, another for urination, and a third command  for defecation.
I use "let's go potty", "pee", and "poop". Choose phrases or words that suit you and your family.
Label Each Behavior
First, teach your dog the phrase for moving towards the bathroom area.  Before you go out the door with your pup, say "Let's go potty". When you are leading your dog to your preferred area, again say, "Let's go potty". This works best if you refrain from adding other comments. Just speak the three words, "let's go potty".
Many people repeat phrases over and over as they are walking around with their pup. It's not helpful to repeat your commands over and over, two times is enough.
Watch your pup closely for signs of pre-elimination. When he is committed to the act, tell him what he's doing.
For example, suppose your pup is sniffing, circling and is about to squat and urinate. Softly say "Piddle". After he urinates, say "that's piddle", and immediately deliver the after-elimination rewards (treat and praise).  Play a quick game of ball or act silly and let your pup chase you.
Repeat the sequence for defecation; just replace "piddle" with your word for defecation.
Label the behaviors for the next day or so.
I've found that 4-6 instances of labeling are enough to teach most dog the names of the acts.
Teach your pup that good things happen immediately after he eliminates outside. Praise him; give him a special treat and initiate a game of fetch or chase – immediately after he eliminates. For now, deliver all food treats outside, at the elimination area, right after you praise your pup for eliminating outside.
After potty area conditioning occurs, delivering treats (as well as the timing of the delivery) won't be important. You can give your dog a treat outside, after he comes inside – or not.
Cue the Behaviors
After a day or so of labeling each of the behaviors, you can transform the labels into commands or cues.
Perform these steps when you know your dog needs to eliminate. The first trip of the day is usually a good time.
Before you open the door, say "Let's go potty".  Lead your dog out to the area. Say "Piddle" and wait. Do not repeat the command. After your dog urinates, throw a party! Play a game. Toss your dog a treat. The idea is to teach your dog that fun stuff happens after elimination!
If your dog doesn't urinate when you give the cue, don't repeat the command. His hearing is better than yours!  He heard it; he just hasn't caught on yet. Repeating the cue is not helpful. Just back up in this program and repeat the labeling sequences.
Once your dog learns the labels, he will eliminate on cue.
Most dogs always have a bit of urine in their bladders, so urinating on cue usually happens right away. Teaching your dog the cue for defecation requires a bit more planning. You'll want to deliver that cue only when it's time for your dog to have a bowel movement! Refer to your log and only deliver the cue for defecation when your dog is due a bowel movement.