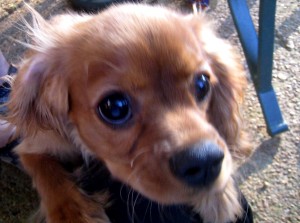 I always ask my clients to practice with their dogs during short sessions throughout the day. For puppies and dogs that are learning look and sit (the first 2 commands), I recommend 5 sessions each day, for 60 seconds per session.
As the dog is introduced to more commands, such as here, stay and down, the sessions will be  longer. How you end the longer sessions makes a difference!
Cool down before ending a session. During your short teaching sessions, respect the fact that learning a new task or raising the difficulty for a task (for example- practicing 'stays' with more distractions or increased duration) can be somewhat stressful for your dog.
I think it's somewhat impolite, rude, or disrespectful to "push" your dog's performance to a very high level and then immediately end the session.
To give your dog a break, end each session with a couple of easy behaviors that your dog already knows. After teaching, hold a play session or go for a walk.
Following this recipe will keep your dog relaxed about learning. He will anticipate the next session with joy! Your main goal is to teach your dog so make it easy for him/her to be successful!
Happy Training!
Alan J Turner – Companion Animal Behavior Counselor and Trainer, Canine Specialization
How's Bentley – Memphis, Collierville, Germantown TN
21st Century Canine Relationship Solutions
Private Dog Training in Memphis, Collierville, Germantown, Cordova, Bartlett TN
Reactive Dog Specialist