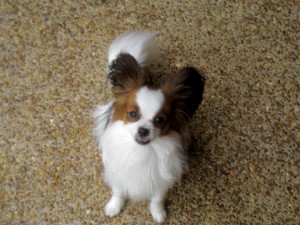 Interrupters are corrections people use to momentarily stop their dogs' behaviors. Examples of potential interrupters are shouting "no", squirting with a water bottle, shaking a can with pennies, tossing keys on the floor, swatting with a newspaper, or holding a pup's muzzle closed.
Interrupters can stop a behavior for the moment. Great, sometimes we need to stop a dog or puppy from misbehaving! Unfortunately, interrupters do not necessarily decrease the likelihood of the behavior reoccurring in the future.
Interrupters decrease behaviors for the moment and can be very useful short-term tools when we are unprepared. Interrupters do not efficiently modify behavior over the long term.
Many of my clients with serious problems unknowingly intensify the problems via the improper use of interrupters.
If you answer "YES" to any of the following questions it is very likely that you are using interrupters inefficiently and/or your methods of communicating and teaching are flawed.
Have you used the interrupter on many occasions to stop the same behavior(s)?
Is the behavior occurring as often today as it was yesterday?
Will the dog cower at the sight of the interrupter, even though he or she is not misbehaving?
Does the interrupter need to be visible, or held in your hand, before the dog will comply with your wishes?
Are you constantly carrying the interrupter with you, or purposely placing the interrupter within easy reach?
Using constant interrupters as teaching tools has unwanted side effects, the least of which is a confused, distrustful dog. In addition, interrupters do not teach the dog which behaviors you do want.
Interrupt – Redirect – Pay
You can use interrupters effectively if you complete the thought and tell your dog what is acceptable. Interrupt –> redirect –> pay is the most efficient use of interrupters.
Anytime you say "no", ask yourself these two questions. What exactly would I like my dog to do at this moment and exactly where would I like him to do it?  Once you have these answers, you've just identified your redirect behaviors and your next training goal. Teach your dog to perform the redirect behaviors in that specific context. Do this when you have complete control of the environment.
For instance, suppose your dog jumps up on the dishwasher door and licks dishes when you are loading your dishwasher. Ok, you've defined the problem, now decide on a solution.
What exactly would you like your dog to do when you load the dishwasher? Where would you like him to do it?
You've decided that you'd like your dog to lie on the kitchen area-rug when you load the dishwasher. Here's a summary of your training plan. Variations of this exercise can be used to address other problems such as bolting out open doors and stealing food from counters.
Remember, you can't teach your dog when life is calling the shots! Set aside some time and teach your dog this specific skill.
First, teach your dog "Go to Place (place is the rug)".
Gradually increase the time he must stay on the rug before you pay him.
Add the distractions of the dish loading process – one step at a time. Have him stay while you bend down and touch the handle, while you operate the door handle, while you open and close the door, while you place a dish inside, et cetera.
After a few short sessions, your dog will know exactly what to do, when you load dishes, and he will know exactly where to do it!
The next time your dog jumps up on the dishwasher door, tell him "no", immediately cue him to Go to Rug, then release and pay him – after you are through with your task.
Better yet; before you begin to clean up, tell your dog to "Go to rug". Don't forget to pay him after you are finished cleaning up!
Happy Training!
Alan J Turner – Companion Animal Behavior Counselor & Trainer, Canine Specialization
Private and Group Dog Behavior and Training Services
Memphis, TN