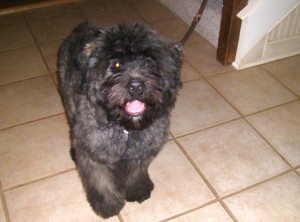 Truth is, most dogs default to sit when they reach the impasse, as presented during the " capture sit for folded arms" exercise.
The leash is a tool to reduce your dog's choices. Ideally, the dog will not feel any pressure from the leash, unless he or she jumps up. The short leash will abruptly stop the dog's upward progress, and the dog's attempts to jump up will fail. Most dogs stop trying to jump up, after a few of these failures.
Stepping on the leash, reduces vertical and horizontal territory. Standing upright, with arms folded, eliminates stimuli from you, the handler. The dogs only have a few choices of what to do with their bodies.
If your dog does not sit after a minute or so, consider the following points.
You can use your body language to help. To do this, lean towards your pup with your upper body or take a very small step towards the puppy. He will sit.
Immediately straighten your upper body (remove the spatial pressure you added by leaning forward) and immediately mark the instant his rump hits the floor. Give him a treat. Say nothing.
Is your dog looking at you? If not, go to a different area, a place with fewer distractions.  Are you stepping on the leash, so your dog cannot jump up or move away? If you are stepping on the leash, does the dog have enough slack in the leash to sit?
If you are still having problems getting your dog to sit for folded arms, discontinue the exercise and try again later.
Happy Training!
Alan J Turner –  Dog Trainer – How's Bentley – Memphis TN
Private and Group Dog Training Services
Group Dog Mini Course
Do-It-Yourself, Internet dog training basics