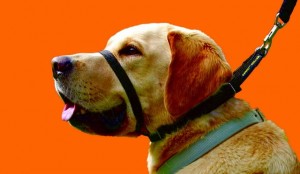 Stop your dog from pulling! The Canny Collar is the first head collar that anyone can fit and use. If you can attach a buckle collar to your dog, you can fit the Canny Collar. Price is $25.95 plus a flat rate, USA shipping charge of $6.95.
Click Here to Order a Canny Collar today!
For years, I have suggested head collars for my clients.  Clients use the equipment to get the dog to perform the good behavior, then they reward the dog for walking nicely!
A core problem with the Gentle Leader, Halti, and the Snoot Loop is fitting the collar correctly. Until now, all head collars required fine tuning and adjustments.  Toss in an exuberant dog (why else would the people need a head collar?) and many people become frustrated and switch to other no pull devices.
The Canny Collar has fast become my favorite choice for many situations!  Just order the correct size and you are ready to start enjoying walks with your dog!  Click Here for a Size Chart.
None of the big box pet supply stores in Memphis, Germantown, or Collierville TN carry the Canny Collar. None of the speciality pet supply stores, such as Three Dog Bakery or All About Pets, or Hollywood Feed carry the Canny Collar.
Visit the Products Page to order your Canny Collar today!
Alan J Turner
Companion Animal Behavior Counselor & Trainer – canine specialization
How's Bentley – Memphis, Collierville, Germantown TN
Private and Group Dog Training