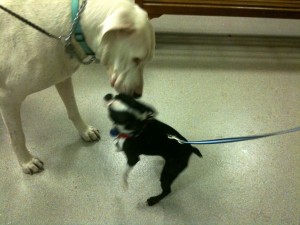 Forget about stopping naughty behaviors.:) Instead, spend a little time with your dog and teach him a behavior that is incompatible with jumping up on counters such as to Go-To-Place.
If you focus on stopping behaviors, you are destined to make a full-time hobby out of training. For example- If you focus on stopping a dog from jumping on the counter and succeed, you really haven't taught the dog what behavior is acceptable, or how he might behave politely and earn a reward.
The dog may abandon the counter jumping behavior only to start scratching the lower section of the cabinet under the countertop, start barking at the counter, or worse!
Go-To-Place is one of my favorite commands.
The "Place" is a very comfortable dog bed strategically placed in the kitchen where you can reinforce Go-To-Place behavior!
CLICK HERE for Go-to-Place instructions.
If you focus on teaching this one behavior, you won't have to "break him" from jumping up, licking the dishes in the dishwasher, barking, object stealing or any number of behaviors that annoy you!
It's much more efficient to teach dogs a few basic behaviors that are incompatible with many unwanted behaviors.
Happy Training!