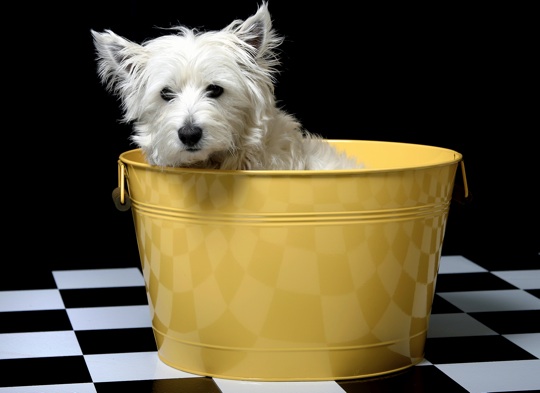 Manage the environment. Close doors, use crates, baby gates, tethers, et cetera.
Get a clean bill of health from a veterinarian.
The dog should be leashed, confined or supervised at all times while inside.
Anytime you cannot directly supervise your dog, use a crate or confinement area to keep your dog and your house safe.
If you will be gone for periods longer than the dog can wait, place newspaper (or house training pads) on the flooring of the area where your dog will be confined.
When you are inside and your dog is not confined, use a tether.
To use a tether, make a 6-9 foot lead you can attach to furniture or your waist.
Always provide your dog with adequate access to the "potty" area.
Feed your dog at the same times each day
Unless directed otherwise by a veterinarian, take up bowl and uneaten food after 15-20 minutes.
Keep a log of feeding and elimination until you learn your dog's schedule.
Always attach a leash, go out with the dog, and lead him or her to the elimination area.
Wait patiently for 5-9 minutes. If the dog doesn't eliminate, return inside, crate or confine the dog for 20 minutes and then try again.
Teach your dog that rewards are for eliminating outside.
Reward your dog for eliminating outside.
Never scold or punish your dog for any "accidents".
Clean soiled, inside areas, with cleaners containing pet odor neutralizers.
When your dog becomes more reliable, gradually grant supervised access to more areas of the house.
Alan J Turner, Companion Animal Behavior Counselor & Trainer – Canine Specialization
Private and Group Dog Training in Memphis, TN
Owner: How's Bentley