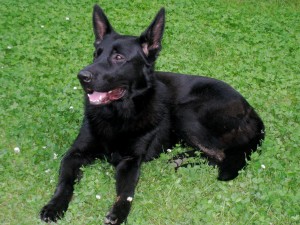 If you have a new puppy or dog, you need to manage the environment so your puppy does not practice rude behaviors. Use baby gates, crates, leashes, tethers to control your pup's access to territory.
Many people overlook the most basic tool for controlling a dog inside the house, the leash. It's a neat device that has a coupler on one end that attaches to your dog's collar.
Several times a week, I hear people say, "my dog jumps up on guests or runs out the door at every opportunity"?   I suspect these people do not have a leash attached!
Off leash obedience is an advanced skill. No one would take their untrained dog for a walk, next to Poplar avenue, without attaching a leash. Why? Because they know their dogs are likely to go into the street, or chase a car ,or otherwise get into trouble.  They realize their dog is not trained, does not respond to voice commands, and they manage the environment by attaching a leash. With a leash attached, the dog is safely connected and unable to make stupid choices. GREAT!
Off leash obedience is an advanced skill, regardless if the location is inside or outside. Instead of waiting for your puppy to make mistakes, and attempting to teach via corrections, help your puppy make the right choices and reinforce good behaviors with rewards. You can kindly prevent your utrained dog from jumping up on guests, counter surfing, getting into the trash, or other wise destroying your home by attaching a leash or tether.
The long term solution for naughty behaviors is simple. Learn how to train your dog and then do it!
Here is an outline of your tasks:
Dog Training Success
Meet your dog's social, emotional and physical needs.
Kindly prevent your pet from practicing unwanted behaviors. Attach a leash.
Learn how to tell your dog exactly what you want.
Learn how to motivate your dog to want the same things as you.
Change your behaviors in order to change your dog's behaviors.
Form a global training plan.
Teach your dog coping skills.
Teach your dog basic commands.
Practice with your dog every day.
Practice with your dog in many different locations.
Practice with your dog while increasing the level of distractions.
Practice with your dog on a short leash, and then on a long line – before you go off leash.
Happy Training!
Alan J Turner
Certified Companion Animal Behavior Counselor & Trainer – Canine Specialization